A large, powerful mustelid, with a very robust skull, with all sutures thoroughly fused. The jaw is normally permanently attached to the skull due to the "wrap-around" articulation.
The occurrence of vestigial first premolars in some individuals may be of interest in the study of regional types. This specimen has them in the lower jaw only, the example illustrated on the UMich website (ref. below) has them in both jaws.
The genus Meles is found throughout Europe and Asia. Recent research (see Del Cerro et al below) suggests that it should be subdivided into four, rather than three, closely related species.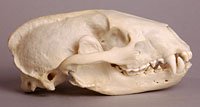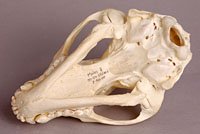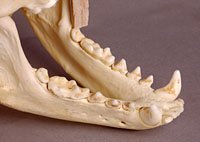 Internet Resources
Standard links :
Smithsonian / Wilson & Reeder's Taxonomic List
University of Michigan Animal Diversity Web
References
Del Cerro, I. et al 2010. Nuclear and mitochondrial phylogenies provide evidence for four species of eurasian badgers; Zoologica Scripta 39 pp415-425
Ratcliffe. P.R. 1970. The Occurence of Vestigial Teeth in Badger . . from the County of Argyll; J. Zool. 162, pp521-525
Yom-Tov, Y. et al. 2003. Increase of skull size in the red fox and eurasian badger in Denmark during the twentieth century; Evol. Ecol. Res. 5 pp1037–1048
Taxonomy:
Order -Carnivora (typical carnivores)
Suborder - Caniformia (dog-like)
Family - Mustelidae (mustelids)
Sub-family - Mustelinae (definitely mustelids)
Scientific Name:
Meles "badger" (latin)
Dental Formula
U 3.1.3.1 - L 3.1.3.2 May have vestigial first premolars in either jaw.
Measurements: (defined)
Condylobasal length - 135.9mm
Zygomatic width - 88.2mm (more)
Collection Data
Stage - Adult
Area collected - Gilsland, Northd.
Date collected - 1st Feb 2000
Source - roadkill
Collector - WH
Collection ref. - 00.004
all measurements in mm

Specimen

CB

ZW

JL

IW

PC

NL

UT

Sex

Comments

illustrated

135.9

88.2

94.0

34.6

25.4

-

34.8

-

Gilsland, Northumberland

0 2

94.237

121.4

78.6

81.6

31.4

24.6

-

30.7

-

Northumberland

0 0

00.022

130.2

80.4

90.2

32.7

25.0

-

35.2

-

Greenhead, Northumberland

2 2

00.009

135.0

90.3

94.7

35.7

24.3

-

34.7

-

Hayton, Cumbria

0 2

12.008

133.3

86.9

91.1

33.2

25.4

-

43.5

M

N54.98835 W2.73739 N Cumbria, UK

0 2

-

131.3

84.4

86.5

32.2

23.2

-

-

-

La Tremblade, 17390, France

-

102216

126.9

79.1

83.7

35.2

30.8

-

-

F

Bremen, Germany (view specimen)

2 2