Contacting Will's Skull Page
Email Options: - Please use whichever method is most convenient.
to open your email software automatically.
Copy & Paste
this into your email address box: will "at" skullsite "dot" co "dot" uk - substituting the proper sort of at and dots.
Sorry about the Secret Seven stuff, just my way of trying to reduce my spam load.
I welcome the opportunity to discuss your finds and help with identifications if I can. The following points may help you to make it easier for me to respond:
Photographs. Please include a scale whenever possible. It doesn't have to be a ruler, a coin or your lens-cap, or anything else will do, especially if you tell me its size. Outdoors/daylight is the best (and cheapest !) kind of lighting, or try using directional light from a window (indoors) to bring out subtle shapes or textures.
It is also useful to learn to resize and crop your photos to a size suitable for emailing or reset the resolution of your camera to low before photographing the skull. A raw image from a 5+mp camera is quite chunky to handle, even with broadband !
Where was it found ? i.e. which continent ! You would be surprised how many people assume I can tell where they are writing from. It also helps to know the kind of habitat (mountain, marine etc) where it was found.
If you want to send me a specimen from within the UK, please ask for my address. (There are many complex regulations covering the sending of wild animal parts between countries).
I don't buy or sell skulls.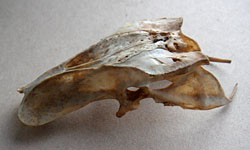 Found one of these ? It's not a skull !

It's the equivalent of a pelvis in birds. You can see the backbone running down the centre and the two sockets which look like eye sockets are the hip joints. This structure is made up of several fused bones including vertebrae, sacrum, ilium and ischium.