This is a distinctive skull in several ways, with an elevated cranium and pronounced temporal ridges. Perhaps the most interesting feature is the dentition, this fox uniquely (among foxes) possessing 48 teeth. The molars and carnassials are reduced in size and simplified compared to other canids, probably as an adaptation to a largely insectivorous diet.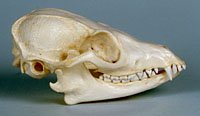 Internet Resources
Bucknell University Mammal Checklist
References
Taxonomy:
Order - Carnivora (typical carnivores
Suborder - Caniformia (dog-like)
Family - Canidae (dogs)
Scientific Name:
Otocyon "ear dog"
megalotis "big eared"
Dental Formula
U 3.1.4.2 - L 3.1.4.3 (variable)
Measurements: (explained)
Condylobasal length - 104-115mm
Zygomatic width - 55-66mm (ref.)