As the OED tells us: a tailless dumpy rodent, now found only in captivity, or as a subject for scientific research (and as food in S America). The guinea pig is therefore, like the dromedary and domestic cattle, a species now represented only by the domestic variety, but unlike them, there may never have been a wild population, the guinea pig having been derived from similar S. American species such as C. tschudii.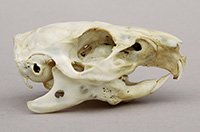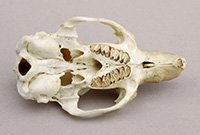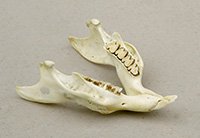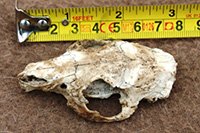 4. I was surprised at the length of this guinea pig skull found in a garden in Essex, considering the length of the average guinea pig.
Overall length: 73.2mm
Overall width: 42.4mm
Photo & measurements courtesy Tony Banfield.
Internet Resources
Standard references :
Wilson & Reeder's Taxonomic List
University of Michigan Animal Diversity Web
Taxonomy:
Order - Rodentia (rodents)
Suborder - Hystricomorpha (porcupine-like)
Family - Caviidae (cavies)
Scientific Name:
Cavia "rat" (from Tupi)
porcellus "little pig" (Latin)
Dental Formula
U 1.0.1.3 - L 1.0.1.3
Measurements: (defined)
Overall length 65.0mm
Overall width 36.2mm(more)
Collection Data
Stage - Adult
Sex - F
Area collected - Lancashire
Date collected - Nov. 2000
Source - Pet
Collector - E. Brown
Collection ref. - 00.052