The skull can be separated from that of the Ship Rat (R. rattus) by the more prominent temporal ridges of the Common Rat, giving its skull a more angular, robust look, and on length. In adults, Common Rat CB usually 43mm or greater, Ship Rat 43mm or less, but there may be some overlap.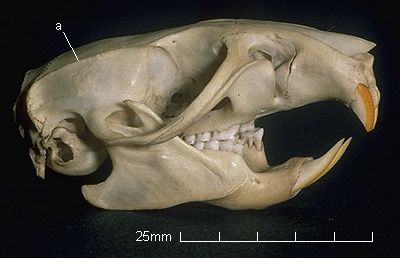 1. Common Rat, lateral view


Internet Resources
Taxonomy:
Order - Rodentia (gnawers)
Suborder - Myomorpha (mouse-like)
Family - Muridae (mice)
Scientific Name:
Rattus "Rat" (Latin)
norvegicus "Norwegian" (Latin)
Dental Formula
U 1.0.0.3. - L 1.0.0.3.
Measurements: (explained)
Condylobasal length - 45.8mm
Zygomatic width - 25.1mm
Jaw Length - 25.7mm
Collection Data
Stage - Adult
Date collected - 1991
Area collected - Northumberland
Collection ref. - 91.005
Source - trapped