Fox or Dog ? The species are closely related, but the variety of sizes and shapes of domestic dog means that simple measurements or features to separate them are difficult to find. Perhaps the most reliable feature is the "inflated" sinuses of the frontal bones in dogs.
In Europe, a medium-sized, dog-like skull with flat or concave surfaces to the post-orbital processes and only very slight inflation of the frontal sinuses is probably a fox.
Other fox species illustrated on this site: arctic, bat-eared, fennec, gray, kit, swift.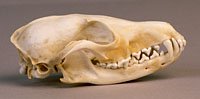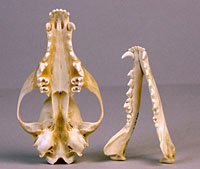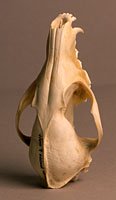 3. Red Fox skull, dorsal view, lit to emphasise concave post-orbital processes.

Click for larger image
Internet Resources
Standard references :
Smithsonian / Wilson & Reeder's Taxonomic List
University of Michigan Animal Diversity Web
American Society of Mammalogists Monographs
References
Yom-Tov, Y. et al. 2003. Increase of skull size in the red fox and eurasian badger in Denmark during the twentieth century; Evol. Ecol. Res. 5 pp1037–1048
Taxonomy:
Order - Carnivora (typical carnivores)
Suborder - Caniformia (dog-like)
Family - Canidae (dogs)
Scientific Name:
Vulpes "fox" (Latin)
Dental Formula
U 3.1.4.2 - L 3.1.4.3
Measurements: (explained)
Condylobasal length - 135.7mm
Zygomatic width - 75.2mm
Collection Data
Stage - adult
Sex - female
Area collected - Gilsland, Northd.
Coll. ref. - 98.002
Collector - WH
Skull Measurements (defined)

all measurements in mm

Specimen

CB

ZW

JL

IW

PC

NL

UT

Sex

Comments

99.030

148.0

87.9

113.2

132.6

22.9

60.5

53.6

M

Gilsland, Northumberland

98.002

135.7

75.2

102.4

25.5

19.8

50.3

49.5

F

Gilsland, Northumberland

96.017

141.0

80.9

26.8

20.4

52.9

52.4

M

Gilsland, Northumberland

94.293

149.5

80.5

113.5

29.8

22.2

59.3

57.1

Gilsland, Northumberland

93.016

140.0

73.8

105.6

27.9

23.2

50.0

52.4

Gilsland, Northumberland

78.001

138.5

76.4

103.4

28.9

21.5

56.6

51.2

Co. Clare, Eire

132.1

75.4

101.9

29.3

23.1

52.7

-

Sologne, Orleans, France

126.8

72.1

96.8

24.2

19.9

45.4

45.9

Al Gharbia, Abu Dhabi, UAE

125.5

70.9

92.9

24.5

21.9

47.9

47.1

Muscat area, Oman

Averaged measurements from Minnesota, USA - from Lariviere, S. & Pasitschniak-Arts, M., 1996

Males

144.0

76.7

23.0

M

n=16

Females

137.1

75.2

23.1

F

n=11